the kneehighs



Monday morning, January 1997. Serra High School. A beautiful day, so far – no clouds in the sky, no homework over the past weekend, and the girls are looking lovely in their attire… thanks, in part, to the San Diego weather. Coach Coons is getting ready to deliver his lecture in his unmistakable southern accent, and naturally, the nerds are all reviewing last week's material, the stoners are all asleep, and the jocks are making moves on the women. Meanwhile, in the background, three very handsome, young chaps were bangin' on their desks, making beats, rapping, making all kinds of noise to start off Government class -- kind of a weird place to unconsciously mold the beginnings of a hip hop group, but the synergy between them had to be realized somewhere. After hundreds of Government class freestyle sessions, talk of doing an album was inevitable. Around the same time, an mc by the name of Talls (Mike Joseph) was quickly discovering his knack for writing rhymes and making hip hop music. Many years later, Talls was busy promoting his solo CD, "The Album", The Sox (David Drury and John Dalton, aka DaDa and Dalton) were hard at work on their EP, and DJ GarGar (Edgar Alminar) was touring internationally with his indie-rock band, irradio, and producing numerous other projects. Yet, somewhere in between all those commitments, their passion for hip hop music was the catalyst for forming The KneeHighs. They immediately put together well crafted songs and hit the stage relentlessly, opening for acts such as: Bone Thugs-N-Harmony, Tha Alkaholiks, L.A. Symphony, Lyrics Born, Pigeon John, The Coup, Ugly Duckling, members of The Shapeshifters, Sage Francis, P.O.S. (Rhymesayers), Blowfly, Trek Life, and Grand Buffet while receiving overwhelming enthusiasm from fans.

Friday night. The Casbah. A wallet full of cash. Alcohol is in the air, as is the smell of perfume. Halter tops and mini skirts are everywhere. Ladies are turning down drinks from the jocks, the stoners are asking around for the nearest open place to eat, and every nerd has a beautiful woman on his arm. While the bass is still resonating through your body, The KneeHighs wrap up another song in their action-packed set and reach into their cooler. As they begin distributing free beers, the show - which feels much more like a party – reminds you of the word, "community". And isn't this what true hip hop is about? Far too often, hip hop is reduced to the arrogant, masquerading circus we see on TV, which further perpetuates stereotypes and continues to give hip hop a bad name. Not the KneeHighs. They single-handedly bring hip hop's potential back into focus - and they have a great time doing it. The hundreds of hands in the air, bodies grooving, and voices hollering the choruses validate the success of the KneeHighs goal: to entertain. Talent plus showmanship has become a rare commodity in a time when everyone has a band and hopes they are as good as the idols they are desperately trying to imitate – but, that isn't where it ends with the KneeHighs. They also bring a craftsmanship into their songwriting which is as rare as a desert oasis for real hip hop thirsty fans.

During their live shows, your eyes can never rest in one place for too long, as all four members bring very different personalities and contributions to the stage. While Talls is known for his off the wall antics, DaDa complements him with his relaxed, laid back style. You won't mistake Dalton's twangy melodies and rapid-fire flow, and DJ GarGar's hype and energy rings throughout each song. Collectively, their stage presence and seamless interactivity cannot be more evident. As they continue playing shows, the group recently finished recording their full-length album, "Global Warming" released in September, 2005. Shortly after the release, the group was quickly added to the rotation of San Diego stations 91X and FM94/9 (amazingly, both primarily rock stations). Both on stage and on record, one thing is clear: not only do The KneeHighs know how to have a good time; they know how to make you have a good time, and are helping bring hip hop back to its roots in the process.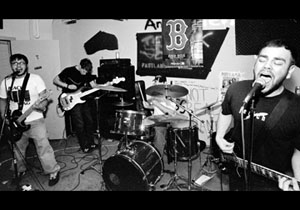 lock and key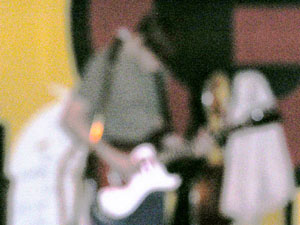 the graze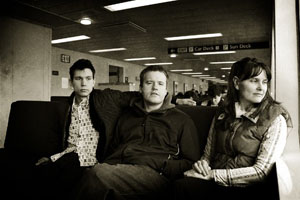 snowdrift